Are you tired of floating boards that a girl just happens to be laying on? Too many suspensions and levitations suffer from this weakness. The supports are removed and the board floats along with the girl. NOT ANYMORE! Our Dev-Ray breaks new ground.

With Dev-Ray the girl first lies on the
board... and then floats up off the board!

Look closely at the top of the table. You will see it's the thinnest ever made for a levitation, PLUS NOTICE THAT THE TOP APPEARS TO BE COMPLETELY SOLID.
Next look at the girl and notice underneath her. Her legs are bent and arched.
No apparent place for any type of support. Note the girl does not wear any type of harness underneath her clothes. She can be in a tight skimpy outfit as no flowing clothes are needed to hide the support. This support is one of the smallest made, yet will support up to 250lbs.

If you have assistants they can remove the table and supports leaving you with a girl floating in mid-air with no visible means of support and NO BOARD underneath her!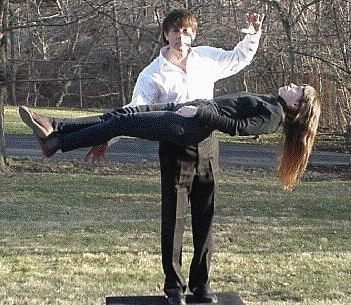 Completely under your control, and yes you can pass an
ungimmicked hoop over her to prove no hidden supports!



Special Deluxe Version with Roll-away Table is available!
Only $3200.00


Deluxe Broom Suspension
We make one of the finest broom suspensions in the world today. We feature the Peter Gossemer harness which is the finest and safest harness made today. Your assistant is suspened on a broom at a 90% angle. Only her armpit rest on the broom. Do it surrounded under any conditions. Nothing finer available.

$3200.00

TUBED X 4 ILLUSION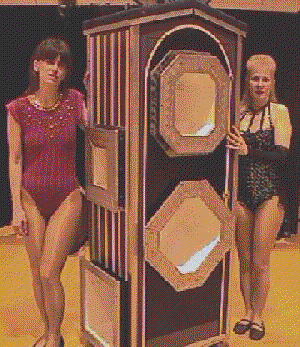 The original classic made even more deceptive. A small upright cabinet just large enough to hold a young lady is penetrated with four tubes of different designs. Look at the
photo and you can see there appears to be no place for the girl. NOTICE how thin the sides are and also note the new improved deceptive top! Can be done close up and completely surrounded. This model offers two ways of concealment and it is possible for the magician to vanish within the illusion if he is of slender build. Magicians who are 6ft or less and weigh less than 150lbs should be able to vanish in the illusion. Illusion and all tubes can be freely examined by the audience with no clue as to how it done. One of the most amazing vanishes ever created!

$2600.00

Models Are Custom Built To Order

HeadSlicer Illusion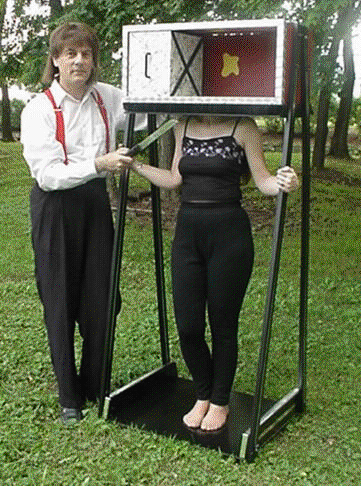 Take a wicked knife, slice off your assistant's head and
move it off to the side! Baffling beyond words. No angle
problems. You can do this anywhere completely surrounded.

$1295
Includes Carrying Case

Standard French Guillotines Just $395.00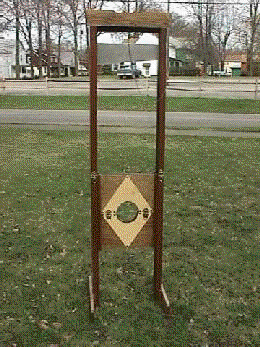 MirrorTrate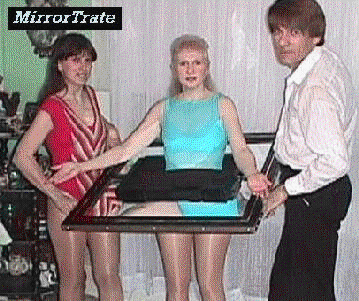 A 32" Square Mirror is freely shown on both sides and lightly tapped on. The mirror can casually be examined by an audience member. Using either your assistant or a lady from the audience you cause the entire body of the girl to
melt/pass thru the mirror while the center is covered with a small black covering. After penetration the covering is removed and the mirror is intact.
BAFFLING BEYOND WORDS!

ILLUSION CONCEPTS are the creators of this illusion, however the idea was based on a Paul Osborne idea of having a girl penetrate a clear sheet of glass. We devised and improved the method but credit must go to Paul for the basic concept.

Designed for the magician looking for a big illusion that can play under any conditions.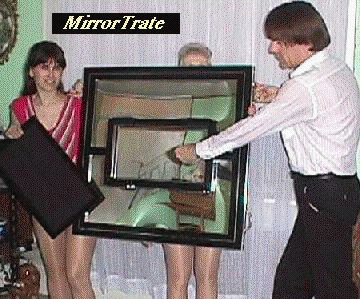 Can Be Done Surrounded!

NO Assistants needed bring up any two people from the audience with no
advance coaching. They will be totally fooled.

Comes with Wooden Carrying Case. Whole illusion in Case is 40lbs

Fits In Your Car.

Optional Stand with Casters for Mirror Available


$1250.00 shipping and case included in
price.
Optional Stand for Mirror $250.00




SUB TRUNK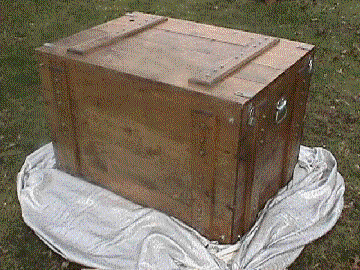 Magic's Classic Illusion.Extremely well made. Trunk is 38"x 26"x 26" Can be fully
examined and our models COME APART FOR PACKING. Made from quality wood, not
plywood.This is a top loader model and the lid is designed to support the weight of a full
grown man.Complete with hoop that folds up for packing and four padlocks. High quality
and workmanship. This trunk should last you a long, long time.
$795.00
Sack X-$75.00 Ideal for switching. Sack can be shown to have solid bottom. No Velcro, zippers or pulling of
threads. Resets automatically(See Order Page For Details)

The design, construction and finish of the trunk is fantastic! Your attention to detail and
desire to serve your customers is incredible. Thank you for going all out of your way to
ensure the safe & quick delivery of the trunk.